EasyReading: between Innovation and Inclusivity
Organised by Innovation Pub – University of Milano-Bicocca
Tomorrow we're meeting in Milan at the IUTA Bistrot – Pirelli Hangar Bicocca starting from 6.00 pm to talk about how EasyReading can help improve, simplify and resolve many problems that we often didn't even notice we had. Federico Alfonsetti, the designer of the font, will attend the meeting.
ABSTRACT
EasyReading: genesis of a project born to support the dyslexic reader and aiming to offer high readability for everyone. Diversity is not perceived as a problem, but as an inclusive value instead.
We read almost with the same frequency that we breathe, and communication mainly passes through reading.
The typeface is the transmission belt between the text and the reader: its high readability allows us to save energy in deciphering letters and words so to invest this effort in understanding the contents.
The project surrounding the EasyReading font, originally aimed at making reading easier for dyslexics, was transformed during the study phase, taking up on the ideas of Maestro Bruno Munari and broadening its scope to approach the design methodology of Design for All.
Bruno Munari addresses design and visual communication: "Visual communication includes all kinds of graphic expressions: the shape of the font, the limits of readability of the words, all means that make it easier to read a text. The image used must be readable for everyone in the same way, otherwise there is no visual communication, only visual confusion".
This way, the difficulties of the dyslexic reader become "an opportunity" to design a high readability font for everyone…including dyslexic readers.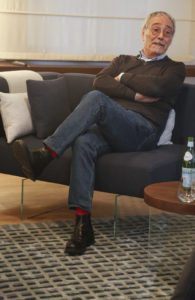 FEDERICO ALFONSETTI 
Born in Turin in 1953, Federico Alfonsetti spent his life in typographic laboratories as a graphic designer and publisher. His passion for typefonts – which used to be drawn by hand at the time – begins in 1969, when he was schooled as an "Advertising Posterist". In 2009, as a partner of a publishing house in Turin, he creates the EasyReading© font, specifically dedicated to the dyslexic reader. An "inclusive" project, one that was started off with the aim of providing high readability to everyone. The font has won several awards in the fields of design and science. In 2014, he co-founded EasyReading Multimedia srl, and is its Managing Director.
INNOVATION PUB
An informal space open to discuss current topics related to the promotion of research, such as the creation of spin-offs and start-ups, the development and licensing of patents and collaboration with businesses to promote the transfer of technology and innovation. At the Innovation Pub, we address the topic of public engagement and the role of research at the local and national level to promote a responsible and effective innovation process. Whether you have an entrepreneurial idea and would like to put it into practice, or you have a brilliant idea and would like to patent it, or otherwise are simply curious and want to get involved, Innovation Pub is a great place to start.
DATE AND TIME
Tuesday 27 February 2018
6.00 – 8.00 pm CET
WHERE
IUTA Bistrot – Pirelli Hangar Bicocca
Via Chiese 2
20126 Milan (Italy)