The date has been fixed for the coming 16 March at the Reggia di Venaria for the preview, press conference and inauguration of GENIUS AND SKILL, starting at 10.30 a.m.
"The exhibition", says the official press release from the Reggia, which will be issued in full close to the preview date, "tells the story of a sophisticated, cultured and complex craft, which developed in Turin at the service of the most important royal and noble clients, in constant dialogue with other arts.
Special attention is given to the enjoyment of the exhibition by people with disabilities: to improve the experience, models, tactile tables and olfactory islands have been set up, together with a video-guide in Italian Sign Language; in addition, the EasyReading font, a highly legible character that makes reading easier for the dyslexic, has been adopted for the descriptive panels of the exhibition room, the captions on the works and the press kit".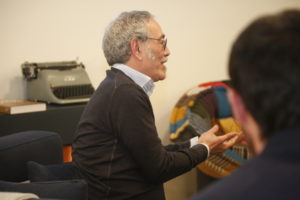 The designer of the font himself, Federico Alfonsetti, explains how this collaboration came about with the Residence of the Savoy royal family, which is part of the serial UNESCO site included on the World Heritage List since 1997: "It all started through Onlus TACTILE VISION, a no-profit association that operates and offers advice for the benefit of the visually disabled, in accordance with the principles of Design For All. We have started up collaboration with them over the last few years in connection with accessibility to museums. They propose inclusive tour pathways and our font becomes part of their proposal, EasyReading becomes a part of it".
Is this the first time for EasyReading at the Reggia di Venaria?
"Yes, inside the Savoy Residence, the UNESCO heritage, this is our first time, but it is not the first time the font has been used inside an Italian museum. Not least, the font was used over a large part of 2016 to celebrate the 90th birthday of Arnaldo Pomodoro, in a large retrospective exhibition set up simultaneously on various premises and over a tour route embracing the whole of the city of Milan, from the Royal Palace, to the Triennale and the Poldi Pezzoli Museum finishing at the A. Pomodoro Foundation".
What are the chances of the Reggia di Venaria adopting the inclusive EasyReading font in the future for all exhibitions held inside the Savoy Residence?
"In theory it is not up to me to answer that question, but I can reveal that we have made an offer to the Reggia di Venaria regarding the general use of the font in the Residence, for all the signage and press and/or exhibition material".