Nine years ago, a house publishing for kids, illustrated books and fiction from first readings to young adults, was born in Monselice, district of Padua: Camelozampa. The two founders Sara and Francesca contributed to achieving their entity's popularity over the years, until reaching, on the occasion of the Special Edition 2020 of the Bologna Children's Book Fair, the BOP which is a top-rated recognition awarded by the publishers themselves. We had a small talk with the two young founders who chose our inclusive font for the majority of their titles, as well as for their institutional website.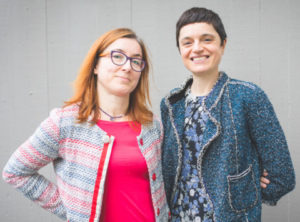 Camelozampa was born in 2011 from the merger of Camelopardus and Zampanera. What is the need from which the idea of combining the two separate entities was born? 
 Camelozampa was born from the encounter between Sara Saorin, who had founded, in 2006, the Camelopardus dedicated to foreign author fiction and Francesca Segato, who started Zampanera, a year later and a few miles away, by publishing books of Italian author and illustrators for kids. After having shared a path together, the idea of creating a new entity, especially with regard to the illustrated book and to children's fiction but with a special attention to those international masterpieces never arrived in Italy, was born. 
 When you look at how Camelozampa grew up in almost 10 years of life, are you pleased? 
 On October, 3 we will be celebrating 9 years of Camelozampa and we are very happy with the goals we achieved so far, from the recognitions we received to the satisfaction of having brought or brought back to Italy some of "contemporary classics" for kids, in addition to new authors. However, the pleasure for the catalogue we managed to build is always joined by a look at the future: we do not feel absolutely arrived, there is still so much to be discovered! 
On the occasion of the Special Edition 2020 of the Bologna Children's Book Fair you got the BOP, an annual prize meant to reward the best publishers in the world in each of the six geographical areas (Africa, Asia, Europe, Central America and Latin America, North America, Oceania) which reached this year its eighth edition. What did it mean to you? 
 Winning the BOP 2020 as the best publisher for kids in Europe was something we never expected, it is usually given to publishers with many more years of history than us! It was a great joy, a great satisfaction, even because the award has been given us by our fellow publishers, both Italian and strangers, who have clearly recognized the path we made so far and decided to award it.  
 Is this the first year you won the award or has this happened before? 
 That is a prize a publishing house win only once in its life! Also, for this reason, having won it after just nine years of activity it is a huge satisfaction. 
 If you were to justify your victory, what reasons would you give? 
 Concerning the votes of Italian fellow publishers, we think the job of rediscovery of international classics for kids, of authors like Quentin Blake, Anthony Browne, Tony Ross, Crockett Johnson, Jimmy Liao, Michael Foreman, was decisive. While our foreign fellows know and appreciate our original production: indeed, most of our illustrated books are translated in many countries all over the world and this undoubtedly helped to make Camelozampa known.  
 How Covid 19 has affected your reality? 
 The quarantine period was very hard because, with the closing of all the bookstores, there was no way our books could reach readers. From a business point of view, instead, our activity never stopped because in our field organizing smart working is pretty simple. 
 Did you think up some innovative solution to reach your readers?  
 Despite the very serious economic repercussions, during the quarantine we choose not to use delivery by couriers because we were worried to put at risk the health of third people. We have instead increased our activity on social network which have become a vital box to engage a dialogue with our readers even remotely. For instance, we held a game contest, based on the "E se…?" by Anthony Browne illustrations, to draw a scene of our daily life in quarantine. Our authors and illustrators created readings, animations, introductions, and also multi-phase and multidisciplinary projects like "Chi sarà? Scienza in trasformazione" by Paola Vitale. 
 Camelozampa and EasyReading: how did you find the font and when did you start using it? 
 We had been looking for a trusted and proven for high readability font for a long time. In the course of the research, we found out about Easyreading and used it in some publications for the very first time in 2017. We have therefore chosen to make high readability a standard for all our production, starting from January 2018. All the latest novels for kids are now coming out with Easyreading. Also, as the previous titles in our catalogue run out, instead of reprinting them, we publish them as new editions with EasyReading. Even for illustrated books, where there are no illustrator's graphic commitments, Easyreading font is being used, sometimes even by foreign publishers, as was for the American edition of "Uff!" by Ilaria Guarducci. We converted our website into high readability as well. In conclusion, we are trying to be as accessible as possible. 
 What drove you to use an "inclusive" font and extend its usage? 
 It was a research path aimed at increasing our books' accessibility, making them available to a wider audience. For this reason, we even made audiobooks to reach even the blind, the visually impaired and all those readers with difficulties in approaching the traditional written page. 
 What projects for the future are you thinking of? 
 Very interesting new coming out are scheduled over the next few months, also in the field of the rediscovery of international titles which we would call masterpieces of children's literature, never seen before in Italy or out of print for far too long. Recently, we started investigating the nonfiction field through the new series Le Sinapsi. We are therefore continuing our publishing work being confident that the beautiful discoveries are far from over.