The second day of the meeting organised by the no-profit association Pillole Di Parole was held today at the Teatro Odeon in Florence. Our font was up there on the stage too, in the words of Carlos Melero from the Ca' Foscari University of Venice, during his speech on "Avoiding ruthless teaching methods", and in the book by Andrea Delogu, "Dove finiscono le parole" (Where words end), which was presented for the first time in Italy.
The seventh edition of the Meeting organised in Florence by the no-profit association Pillole Di Parole today welcomed students and teachers from primary through to secondary schools. The first day, on April 4th, was dedicated to universities.
Among the many guests and experts, invited for a careful reflection on aspects of Specific Learning Disorders (SLD), were Lorenzo Baglioni – moderator and author of a song dedicated to dyslexic children – and Andrea Delogu, a journalist for RAI, who presented her book "Dove finiscono le parole" (Where words end), which recounts her life with dyslexia and goes on sale on April 9th.
Pillole Di Parole is a no-profit association formed and managed entirely by young people and students with SLD. The annual Meeting is an opportunity to disseminate as much information as possible about the issue, through detailed analyses by researchers and the real-life experiences of young people with SLD. "We want to make it clear once and for all that Specific learning disorders are "an additional feature", not an illness, which is, unfortunately, what we still too often read and hear", say its members. "A feature, a different way of approaching textbooks and learning, which teachers and pupils must understand and learn to exploit to the full".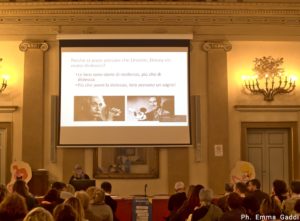 On this subject, Prof. Chiara Pecini from the University of Florence gave an introductory speech on SLD, while Dr.Tiziana Metitieri from the Meyer Children's Hospital in Florence talked about "SLD certification: how it is performed and how not to fear it". The talk by Prof. Roberto Imperiale from the mathematics learning difficulties research group focused on the topic of teaching and learning this subject, while Carlos Melero from the Ca' Foscari University of Venice spoke about "Avoiding ruthless teaching methods". Sandra Zecchi, Deputy Rector for Disability and SLD at the University of Florence, explained what her University offers for students with Specific learning disorders and, taking a look at the first years of school, Dr. Anna Borsani talked about the importance of holding a pen properly. A rich programme, that addressed the topic of SLD from various perspectives and considered different levels of education, which allowed all those attending to improve and deepen their knowledge.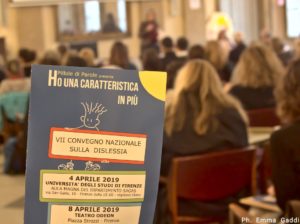 The Meeting was organised under the patronage of the European Commission, the Presidency of the Council of Ministers, Florence Municipal Council and the University of Florence and in partnership with Cred Ausilioteca in Florence and LibriLiberi in Florence.
The Association – www.pillolediparole.it
Pillole Di Parole is a no-profit association that develops and organises many activities aimed at informing and training people on the subject of SLD. Its goal is to help young people who have recently found out they have dyslexia to consider, accept and exploit their "Additional feature" within the traditional school environment. It was founded in 2012 and is run entirely by the youngsters themselves. The Association's main activities are:
– help groups for children and young people at primary, middle and secondary school
– meetings with pupils at schools
– organising meetings to inform people about Specific Learning Disorders
– organising events to leverage these young people's creative skills and raise funds for self-financing.