Starting on 11 April the weekly comic comes to its readers with fresh content and graphics, all in high legibility, and that's why it has chosen the inclusive font created by the Turin designer Federico Alfonsetti and is getting ready for a new challenge: entertaining and surprising the "mobile born", even at school. To celebrate this, the reigning paralympic and world champion in women's individual foil fencing, Bebe Vio, has become a comic character. We interviewed the director Valentina De Poli, who has been in charge of Topolino, the Italian Mickey Mouse, for 11 years.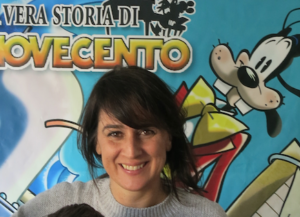 Topolino is the most read magazine for children from 5 to 13 years old. It always has been. So, how do you do it? What's your secret?  
«What has kept us going all these years is the special formula that has always set us apart. Topolino is 75% comics, not just any comics, but Disney, and this gives us an extra gear which gets us into the families, to be handed down from generation to generation. Topolino is a bridge between generations, which holds out because of its exclusive content. Disney comics are part of the Italian collective imagination and have easy access to the family, it has been happening for decades. But the kids of today are very different and they receive stimuli that were unimaginable even up to just 5 years ago, so everything is more difficult for us. That is why we stopped and decided to take a look to understand who is on the other side». 
 Topolino is getting a new look in high legibility. Where does the need for this arise from?  
«It's in the nature of weeklies to turn to restyling, at least every 3 to 4 years, it's a useful time to take stock of the situation, to understand how the world of newspapers and printed paper is evolving, but especially what the readers have become and to understand what direction your target is going in. Ours was therefore a temporal need, because we hadn't "stopped the presses" since 2011. 
Topolino has passed through particular adventures in recent years, including the sale of the Disney licence to Panini, with the physiological time required for adjustment to the new publisher. As is the nature of our new publisher, over these years we have devoted ourselves to our audience of comic super-fans, a slightly more adult target and one which was until then considered secondary. It was worthwhile getting to know it better, but now it's time to go back to our standard target, the more elusive one». 
 You've launched a new challenge for the occasion: entertain and surprise the "mobile born", even at school. The digital natives are outdated then?  
«I started to hear people talking insistently about the mobile born while doing qualitative research and market analysis. We entered into dialogue with our readers to find out that the digital native (readers born with tablets) was already outdated: today the challenge is to manage to give emotions to children born with a smartphone… in their hand! The challenge is to distract them from their screens – certainly not to replace them – capture the readers and make them able to dive into the pages. Because we know very well that when you grab their attention, then "they are yours" and they get lost with enthusiasm, even in paper.» 
 How can printed paper ally itself, even if it's possible, with technology?  
«We all use technology, but I understand that kids are on a different level from us. I have spent whole days of full-immersion with them in front of a screen, in order to get a better understanding of "the rules of attraction". The challenge seems impossible, also because as a result of digital content kids have also lost the sense of periodicity of newspapers and are more likely to make use of what they find "almost by chance". They are accustomed to immediate use of something, but our task is to give them back the chance to discover how nice it is to leaf through pages and to enjoy a different sensorial experience. The consolation is that when our app for digital reading of the magazine content was introduced, a lot of parents wrote to tell us that their children continued to feel attached to paper and that Topolino read through the app didn't give them the same experience… This made us feel proud. And brave.» 
 Have internet and the social networks actually shortened the distances?  
«From a practical point of view, definitely, because you have immediate use of issues that you don't have to go into deeply, but if you have to create a contact, or if you're looking for real information, what is made of superficial knowledge is no longer sufficient. In our case, the creative laboratories can never be replaced by a social group.» 
 The new version also finds room for a section devoted to current affairs. Does this arise from the fact that kids today are much better informed than in the past?  
«Yes, rather than informed they are bombarded with news, even if I couldn't tell you what they really retain from all this information. The journalism side of Topolino has always been there: with the restyling we have tried to make it more appetizing, using the codes of comics and so contaminating the editing side with balloons and onomatopeia. This is to catch the attention of the mobile born, while they surf the pages with their eyes. If they stop, that means you have achieved your aim». 
 What is your reference target? 
«The kids from 8 to 11 years old. We know there is a slight majority of males. But especially that 2/3 of readers are made up of adults. But the core-target has to remain that of young children, otherwise it would be a betrayal.» 
What should we expect from the upcoming Turin Book Fair?  
«Apart from high legibility, an increase in stories and our readers' participation, the other side of the restyling concerns and involves the schools and the teachers. Our crown jewel has always been the TopolinoLab laboratories and we are bringing the experience of "ll Fumetto che fa Scuola" (Comics at school) to Turin, an educational, didactic project started by the magazine jointly with School Channel, a platform that puts forward projects and digital educational content aimed at schoolkids from infant schools, and the first and second levels of primary and secondary schools. Thanks to activities put forward on the portal www.scuolachannel.it the TopolinoLab team, with illustrators and scriptwriters, engages with teachers and goes into the classrooms, to promote the comic strip as a language with numerous areas of educational potential. Laboratories will be held twice a day during the Book Fair, devoted to art, science and the cinema, plus one day devoted to green issues and to paper, in collaboration with Assocarta». 
 You have always been promoters of positive, educational values. But seeing how things go in the world and at school, it is not always easy. Where do you start from, when choosing the issues to deal with? 
«Above all, from… those that we can't deal with. We have to observe certain limits, certain topics such as drug addiction or diseases, are definitely too hard for us to deal with, seeing that we are nevertheless a Disney magazine. But other issues taken from current affairs, but not just questions of humour or pure entertainment, we take them on board successfully, such as bullying, which is very close to our target. It's good then, when we manage to match current affairs with comic strip content, even it they have completely different realisation times.» 
 How did you get to know about the EasyReading font?  
«I asked the graphics editing to start working, before the restyling, on finding a new font that was suitable for encouraging reading. I didn't know that such specific fonts as EasyReading existed. A lot of mothers who work with me made me aware of how delicate, modern and important the problem of dyslexia was. It is discussed a lot in the schools. Graphics editing came to my office with sample pages of our Topo already laid out with the new font. At first it looked strange, very different, but it only took one morning to convince me. EasyReading is a completely different way to read, it encourages reading, and not just in young children. The pages of Topolino will never change their format, we are talking about something that made history, but being so small it takes nothing to create a feeling of "full up". That's why we needed EasyReading. I tried it out when correcting the magazine: the drafts are, without any doubt, easier to read». 
 Are you going to use the new font for the website? 
«A restyling is also planned for the website, the current one cannot support the new font, that is why we have to wait before working on it to set up EasyReading. I really think we are going to use it on-line too.» 
In the edition in the newsagents' from tomorrow, there is also room for a superhero, a superstar, wearing the clothes of the comic, if need be: Bebe Vio. How did this come about?  
«A few months ago we had already published a page where Bebe had been turned into a duck, with a mini interview devoted to the launch of her show. Rather, she had been turned into a duckling, in my opinion she is a very lively, but sweet, little duckling. Our readers loved it, but especially she loved it. So Bebe Pio was born. In June there will be more space for Bebe: she is going to use the pages of Topolino to launch the eighth edition of the event she has organised, "Games without barriers". Bebe is an explosion of energy, smiles and life, exactly the message we want to send with our magazine.» 
What about the TopoReporters, the young budding journalists recruited by the editing team? Do they know how hard it is to be a journalist? 
«Let's say they find out as they go along just how much work lies behind it, even though they are enjoying the best part of journalism. It always strikes me how some children are afraid of nothing, while others, when they meet famous personalities, are tongue-tied with emotion. But then they have an extra weapon, which we should also try to keep intact, playfulness: this helps you to overcome everything. During the Milan Book Fair, a little girl with her family came up to us to ask how she could become a TopoReporter. She told us she played the piano and loved classical music. So, we took her to interview Allevi and, when things happen naturally, we just have to give in to the happy ending and believe we are on the right track.»